Fashion Trends during Summer
Fashion trends during summer are comes in light. Whether its color, weight and materials it is always and must be in light and it is not debatable.
Make-up to wear
Light and natural Make-ups is always the best choice during hot summer day.
Clothes to wear
Summer is hot and will definitely makes you sweaty, to minimize the effects of summer heat, wear clothes with light colored cotton, chiffon, silk and lace for your Dresses, tops, skirts, shorts and rompers.
Off-the-shoulder dresses are your best choice
Off-the-shoulder dresses are trendy specially during summer because they are the easiest to find and to get fashion style to get during summer.
Handbag
It is the best Go-to bag in this season, so getting one specifically for summer was always meant to be light colored, like light brown, light blue and even light gray.

Eye-wear to choose
Always get the one that never loses its fashion style after summer and enough to wear for a any occasions in a year. Which means, don't go with so much dark lens and light lenses, pick the right color of lens so that it always find its match for your fashion style.
Hats are great
Why not, its a great fashion statement during summer, If you are having a hard time for choosing the type of hats that suits your face. There is always a hat expert in a stores that can find a perfect match for you.
Your hair
Summer beaches are really fun and exciting if you just braid it or just tie your hair into a bun. Moving around, swimming, running and walking will never be bothered as your keep your hair on the tie.
Jewelry
In summer, wearing simple jewelries never gets old. Earth-tone accessories is always a nice pair for your light tone clothes.
Your Health
Summer is really scorching hot, to avoid dehydration, drinking a lot of water is one of the best solution. You can also eat juicy fruits like Watermelon, Pineapple, Oranges and Mangoes.
Book your Flights and Hotels  only at Expedia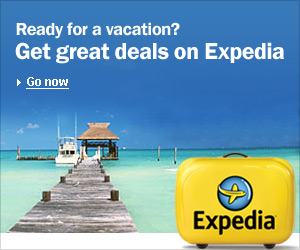 Expedia is one of the leading online Booking accommodation site and dedicated to service every travelers. So when it comes to booking your flights, hotel and vacation resorts, Expedia is your handyman. Book your flight and hotel reservation that is right for you using their star ratings, guest reviews, location maps & great discount rates only at Expedia.