Choosing the best looking dress is always the first choice when we are picking an attire for work. All you have to do is to make sure that you are able to choose the smart casual dresses that you will need for your job. There are a lot of factors that you could take note of on how you could be able to shop for the clothes that you will need.
Dresses are a great addition to your wardrobe. And if you are looking for a great outfit for a daily professional look, aside from dresses, you should also have a blazer, cardigan and coat that can mix and match with your dress. If you are thinking about what clothes to shop for, the very first thing you should consider is the fit, quality and price. Do you want an outfit that will make you seem both casual and professional at the same time? Are you willing to shell out some extra cash for this?
First, Fit is the most important when buying your dress, because you don't want to wear a dress that can make you look fat, short and uncomfortable. You have to make sure that the clothes you buy fit according to your current body size. We always dream about bringing back a thin body but when buying clothes like dresses, the fit of it is the most important aspect to improve your body shape when wearing such a dress. Do not pay for a dress that you haven't fit.

Second, Quality does not always come in expensive but highly depends on brands that created the clothing. We all know that most designer brands have a high quality of fabric, timeless design and are highly praised for long lasting colors that do not fade and really good stitching techniques. Although, there are alternative brands that also offer high quality materials that can do much for high end designer brands. Most elite people prefer Designer brands due its versatility when they mix-and-match it with their least favorite clothing.
Third is the Price. You cannot buy what you cannot afford with your current monthly check. Yes, being fashionable is expensive but being smart is not expensive. You don't have to wear expensive clothes in order for you to achieve a professional look. Instead, you can always improve how you look if you know how to mix your dress with outerwear and fashion accessories. Choosing a good, less expensive clothing brand that offers a good quality of dress is always the great way to save enough for such add-ons that can make you look more professional and expensive at the same time.

You just need to make sure that you are able to select for the one that would really suit your budget, fashion style and of course, the office culture. Buy different sets of dresses that all fit you and make sure that you are able to wear it with poise. In addition, you will also need to have yourself clean and properly groomed. Looking better everyday is what brightens up your daily mood and the people around your workplace. Be able to groom and dress properly, and rest assured that you could make an impression to your workmates and to your bosses.
To conclude, you don't have to worry anymore because dresses are sure to be the best thing you can wear to any meeting, office party or company event! Why is that? Dresses will make women look really nice, sophisticated, so it's really smart to own more and wear it. Match your dress with a nice pair of shoes, handbag, and maybe a cashmere jacket if it gets cold. Give yourself some fresh perfume and you are good to go! Choose a dress appropriate on occasion you are going with. If you need more convincing, go online and look for dresses. You will see how good they look on everyone else.
Shop at discounted prices in Kalki Fashion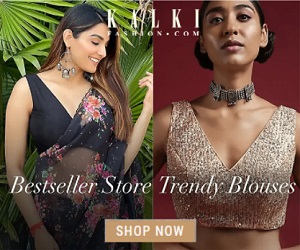 KALKI Fashion, the brand that houses one of exclusive range of dresses, bridal, couture & pret collection as well as accessories, footwear & jewelry which makes it one of the most sought after shopping destination for women. Check out their online shopping page for special discount promotions offered only at Kalkifashion.com.